Street Cleaning Side Brush
Side Brush
Street Cleaning Side Brush
Plate-type road cleaning side brush for all types of road sweeping machines.
Reinforced plastic bases to resist blows in which we can insert all kinds of fibers; plastic and steel.
We manufacture with
Cable (steel cable, nylon coated) very high performance, minimal aggression to the pavement and a very low noise level.
3mm polypropylene PLP, non-aggressive on the work floor, recommended for areas with low dirt and delicate floors.
Polypropylene and Flat Steel mix, the most balanced, valid for all types of flooring, high productivity.
Flat steel, highly aggressive on the pavement, indicated for areas of high dirt and difficult sweeping: roads, clearing areas, etc.
SILENT with cable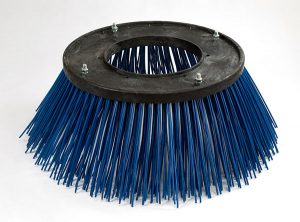 Sweeper MFH 2200 – 2500 Ø.260/490mm
sweepers; Swingo, Johnston, Schmith, Ravo, City Cat Ø.320/500mm
sweepers; Semat A-600, MFH 5000, Karcher, Pulcra Ø.80/350mm
sweepers; City Cat 5000, Ravo 560 – Azura Ø.170/580mm
Schmidt Cleango sweeper Ø.235/580mm
sweepers; Ravo 4000 – 5000 – 5002 – 540, Butcher City Cat 1500 – 2000 – 2020, Piquersa 2000 – H, AUSA RMB – 120 – 200 Ø.170/500mm
ECOLOGICAL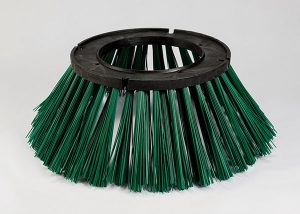 100% recyclable – to the yellow container!
high performance
easy assembly
We have achieved the fastening of the fiber by means of thermofusion, thus eliminating the iron staples that made recycling the brushes very costly.
sweepers; Swingo, Johnston, Schmith, Ravo, City Cat Ø.500/320mm
sweepers; Ravo 4000 – 5000 – 5002 – 540, Butcher City Cat 1500 – 2000 – 2020, Piquersa 2000 – H, AUSA RMB – 120 – 200 Ø.570/170
sweeper; MFH 2200 – 2500 Ø.490/260mm
sweepers; City Cat 5000, Ravo 560 – Azura Ø.580/170mm
Schmidt Cleango sweeper Ø.580/240mm
MIXED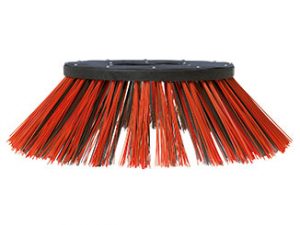 Sweepers; Ravo 4000 – 5000 – 5002 – 540, Butcher City Cat 1500 – 2000 – 2020, Piquersa 2000 – H Ø.500/170mm polypropylene + flat steel
MFH 2200 – 2500 sweeper Ø.490/260mm polypropylene + flat steel
Schmidt Cleango Ø.600/240 polypropylene + flat steel sweeper
City Cat 5000 / 5006, Ravo 560 sweepers – Azura Ø.600/60mm polypropylene + flat steel
Dulevo 5000 / 6000 sweeper Ø.860 or 700 / 61mm polypropylene + flat steel
Dulevo 200 / 3000 sweeper Ø.600/61mm polypropylene + flat steel
Swingo, Johnston, Schmith, Ravo, City Cat sweepers Ø.500/320mm polypropylene + flat steel
Semat A-600, MFH 5000, Karcher, Pulcra, Scarab sweepers Ø.350/80mm polypropylene + flat steel
Hako 300 (CL024), Piquersa 1500 – 2500 (CL059), Faun, Dulevo Commando Ø.440/100mm Flat steel sweepers
Hako sweeper 1250 – 1600 – 2200 Ø.500/170mm polypropylene + flat steel
SEGMENTS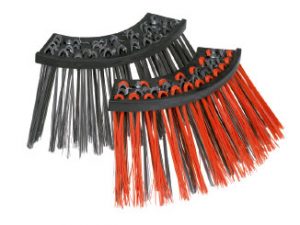 Sweepers MFH 5000, Dulevo 5000 / 6000 Ø.860 or 700 / 60mm polypropylene + flat steel
STEEL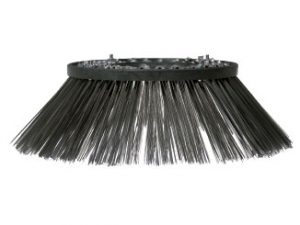 Sweepers Ravo 4000 – 5000 – 5002 – 540, Butcher City Cat 1500 – 2000 – 2020, Hako 1200 – 1600 – 1800 – 2000, Piquersa 2000 – H Ø.500/170mm Flat Steel