Custom Cylindrical Brush
To quote a custom cylindrical brush, we need you to provide us with as much information as possible:
Custom cylindrical brushes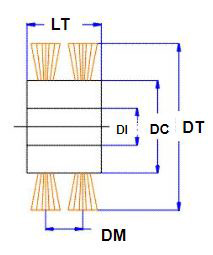 LT: Overall Length ____ mm
DT: Overall Diameter _____ mm
DC: Body Diameter _____ mm
ID: Inside Diameter (for shaft) _____ mm
DM: Distance from center to center of strand _____ mm
Fiber type and arrangement for custom cylindrical brushes
Fibers
Synthetic: polypropylene, polyamide and others
Natural: horsehair, tampico
Abrasives: Silicon Carbide
Metallic: steel, stainless steel, brass
Specials: antistatic, metal detectable, for high temperatures…
Fiber Density and Layout

Fiber diameter: ____ mm:
About fiber density: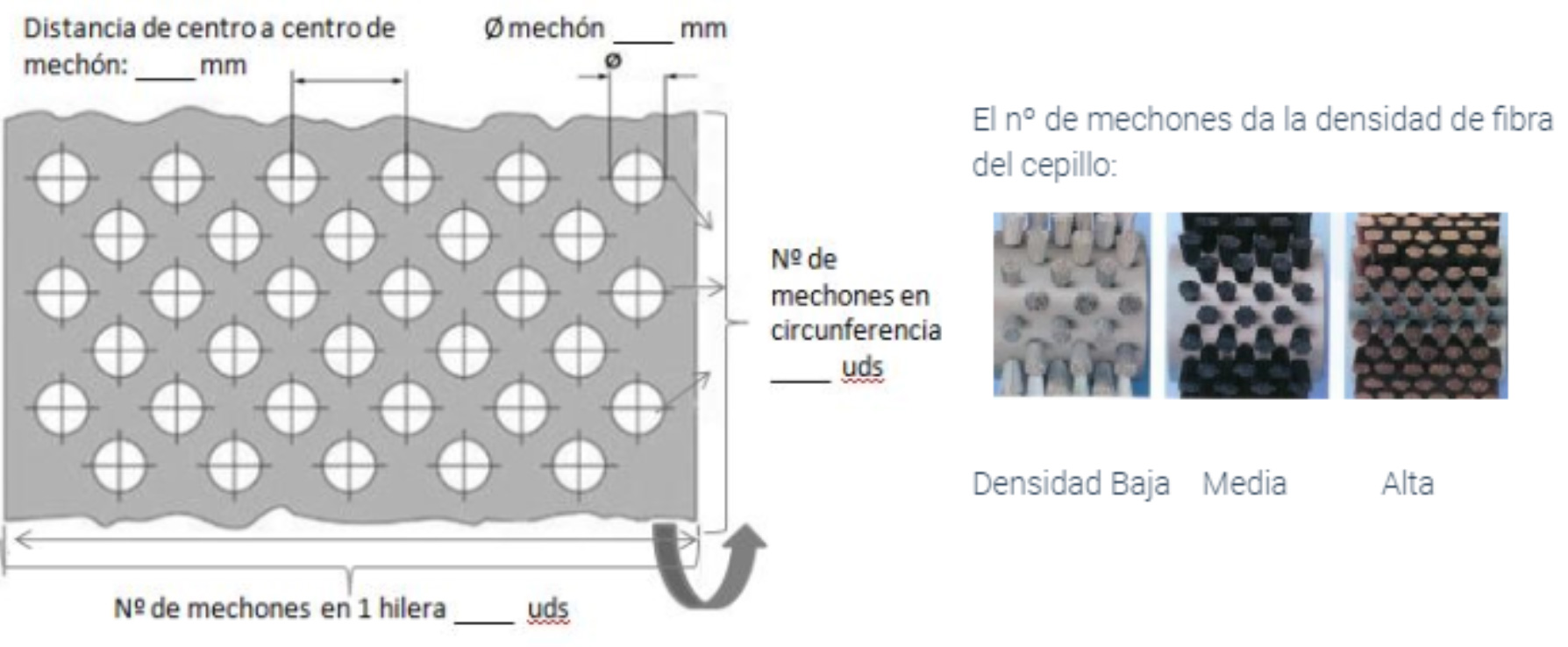 Custom cylindrical brush application
Cylindrical brush working conditions
Number of cylindrical brush units
To ensure optimal brushing and useful life of the custom cylindrical brush, indicate the application and working conditions of the cylindrical brush:
What work must the cylindrical brush do?
Does it have to comply with any regulations: food, etc…?
Do you work dry, damp, wet, outdoors…?
Are you in contact with any chemical product?
Is there temperature?
The surface to be cleaned is delicate, it should not be scratched, etc.
Does it have any special shape? Machining, key for the shaft, square shaft, etc…
Number of units you need: ____ units
Custom cylindrical brushes suitable for the food industry
Extensive experience in cylindrical brushes for the food industry assembled to measure to cover any need.
Polyamide bodies and other materials suitable for the FDA/EU food industry for food contact.
For cleaning and hygiene in the food industry, tanks, containers, work tables, surfaces where food is handled, machinery and machinery parts…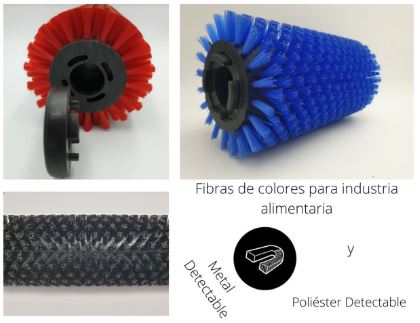 They are disinfectable since we can use materials resistant to temperatures of up to 100/120ºC and materials that support chemical products such as disinfectants, etc.
We adapt the brush to the strict safety requirements of food companies for the detection of foreign bodies in the product.
Bright colored fibers to be able to detect them visually.
Possibility of detectable polyester fiber is sensitive to control and prevention instruments applied in production lines such as magnets and metal detectors.