Mug Brushes
Shafted and Shaftless Cup Brushes are all-terrain brushes used on angle grinders and machining centers for the removal of varnish layers, scale and corrosion; also ideal for treating welds and cleaning boards.
Mug Brush
It is an aggressive tool to use in heavy work and large surfaces. Great starting capacity, they are used in shipyards, boiler works, cleaning of formwork panels, etc.
Industrial Cup Brushes
In the models with a ring, when the wear of the wire reaches the nickel-plated ring, the ring is removed with a hammer blow, with which a few more millimeters of wire are available, thus lengthening its life.

Diameters 70 – 140mm
Steel 0.30, brass-plated steel 0.25 and silicon carbide grain 180/1mm
Couplings M14, Ww5/8″ and internal diameter 22.2mm (Brush diameter 140 = coupling d.80mm)

Diameters 60 – 150mm
Brass 0.30, Steel 0.20, 0.30 and 0.50mm
M8, M10, M14, Ww5/8″ and m12x1.5 couplings

Diameters 60 – 150mm
Stainless Steel 0.20, 0.30 and 0.50mm
M8, M10, M14 and Ww5/8″ couplings (80mm diameter = d20 coupling)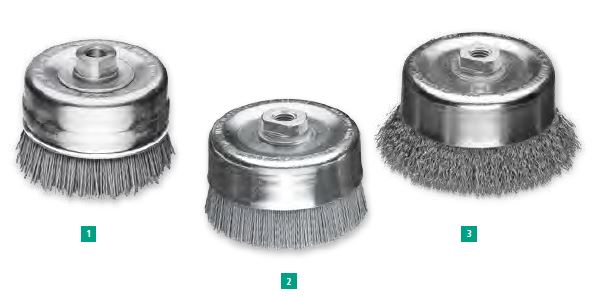 1 and 2: Abrasive nylon silicon carbide grain 80/1,2 and 180/1
3: Steel and Brass Steel 0.35
Cup brushes with straight wire
They are used to deburr surfaces, mainly in machining centers. Brushes are available with steel wire, stainless steel wire, abrasive nylon, or any other filament. Due to the straight cup, the brush filament flares less and more conical points of the bristles work on the surface.
These professional crimped wire brushes are ideal for working on large surfaces with angle grinders.
They can also be used to remove rust, paint, dirt or scale and for polishing.
Models with Abrasive Nylon brush without scratching or altering the dimensions of the pieces. They can be used on dry and wet surfaces.
Robust tool for brushing large surfaces in shipyards, boilermaking, construction, etc. For use on electric or pneumatic portable machines (angle grinders).
Brushing stainless steel surfaces should be done with stainless wire.
Possibility of manufacturing these same diameters in brass wire. This type of wire does not produce sparks during brushing