Anti Spark Brushes
Anti Spark Industrial Brushes
Industrial anti-spark brushes are recommended for working in areas where flammable vapors, liquids or dusts are part of the working conditions. In addition, they are used in all other situations where sparks can cause a potential fire or explosion hazard.
In explosion proof areas, low sparking brushes are recommended.
Compared to the wooden handles of manual toothbrushes, the bodies of mechanical toothbrushes are made of brass. The filling material is bronze CuSn6. These materials generate a low amount of sparks, which ensures a minimum spark working environment. Another benefit of bronze is its corrosion resistant property.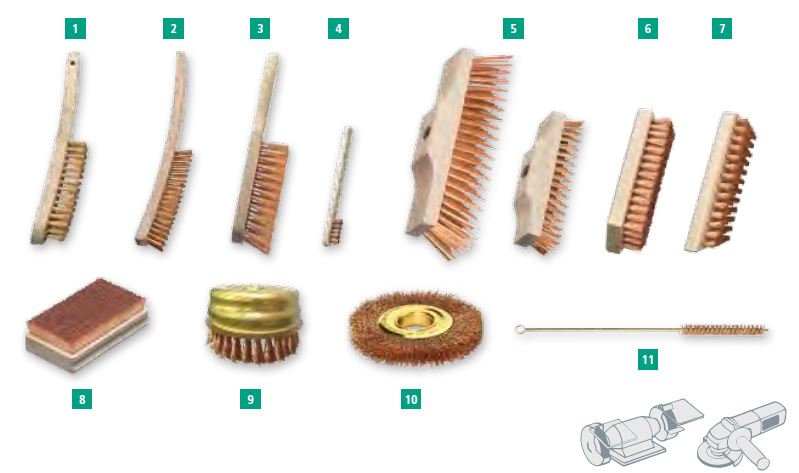 1.- Manual brush standard 25mm fiber outlet Available with 3, 4 and 5 rows 0.20mm bronze spike in packs of 12 units
2.- Manual brush Export 30mm fiber outlet Available with 3 and 4 rows 0.30mm bronze spike in packs of 6 units
3.- Duster type brush 40mm fiber outlet Available with 4 rows 0.25mm bronze spike in packs of 12 units
4.- Brushes for spark plugs 15mm fiber outlet Available with 3 rows 0.15mm bronze spike in packs of 12 units
5.- Brooms and sweepers 300×70 55mm outlet and 220×60 60mm outlet Available with 6 rows 0.40mm bronze spike in packs of 12 units
6, 7 and 8.- Special models, check different sizes available.
9.- Cup brush Diameter 125mm Fiber outlet 23mm Inner diameter 32mm Brass cup Bronze spike 0.50mm tufted in Packs of 1 unit.
10.-Circular Brush Diameter 150mm Brushing width 23-25mm Disc width 22mm Disc diameter 50mm Fiber outlet 33mm Min/max internal diameter. 13-50mm Brass Barb 0.30mm in Packs of 1 unit.
11.- Interior tube cleaning brushes Diameters 10, 20 and 35mm Total length 100mm Brass wire core Bronze fiber 0.20 in packs of 10 units.
Fields of application of the anti-spark industrial brushes:
Low spark brushes are used in all industries and companies that have an explosion or fire risk due to flying sparks:
• Oil and gas industry
• Pipeline industry
• Chemical industry
• Nuclear power plants
• Plastic industry
• Food industry, for example: bakeries
• And many others
Applications can be cleaning tanks or working in an explosive environment.
Work instructions
• Low spark (bronze filled) brushes are much softer than other commonly used filling materials, eg steel and stainless steel.
• Therefore, these brushes have a higher abrasion rate, this means that these brushes must be used more carefully in order not to damage the work piece.
Excessive use should be avoided.
• The use of low-sparking tools should not be your only measure of protection against fire or explosion.
• To ensure comprehensive protection of personnel and the building, observe the regulations of different institutions, for example: regulations of trade associations, employers or legislators.