Flat Belt Brushes
Flat Belt Brushes
Industrial Flat Belt Brushes
Industrial brushes for flat belts, essential for transversal cleaning of conveyor belts and for the transport of all kinds of goods. With fibers, whatever the environmental conditions (eg oils, greases, chemicals, dirt and moisture).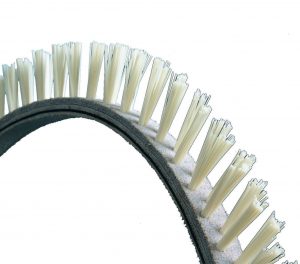 BODY MATERIAL:
The core of a flat brush strap is made of synthetic or chrome-plated (cL) leather. High-quality chrome leather on the pulley side, inner belt lining in polyamide and an additional cover layer on top.
ADVANTAGE:
• Available in many lengths and widths
• Belt can be manufactured with steering cords at the bottom
• Available endless and in roll
• Various fill densities
• The belt can be placed axially with respect to the product.
• Perfect combination of materials
• Individual choice of fibers and fiber quality depending on the application
• Safe transport of any type of materials
• Ideal for transversal cleaning of conveyor belts and much more

Belt width: 25, 50, 75, 100, 120, 140, 160, 180, 200mm
Indicate:
Strap Width: _____mm
Fiber exit (ZH): ____ mm
Fiber Type: ______
Fiber diameter: _____mm
Overall length: _____mm
Open or closed?
Number of units: ___
Contact us for a technician to advise you.