Cylindrical Brush with Metallic Spiral
The metallic spiral cylindrical brush is a type of cylindrical brush construction where the base, the body of the brush is a metallic strip, in steel or stainless steel, which takes the fibers, synthetic, natural or metallic, and is wound forming a spiral as well. endless call. This type of spiral cylindrical brush allows a high fiber density when it is needed, to obtain a totally metallic brush that is sometimes necessary where there are high temperatures, to give it a step between turns to install in metallic augers in filtering works against perforated sheet metal and many other applications in the industrial sector. The 2 constructions of this type of brush are: with the fibers towards the inside (wire stripping and continuous rope cleaning) or with the fibers towards the outside.
Cylindrical Industrial Brushes with Metallic Spiral
This type of brush is always custom made on request to suit the application. The metal spine or strip can be made of steel or stainless steel and the fibers can be synthetic; nylon or polyamide, polypropylene, polyester, natural; horsehair or tampico, or metallic spikes such as steel, brass and stainless steel. The spirals can be supplied loose for the customer to install on their shaft, we can also deliver packages of spirals with the spine welded, the spiral welded to a metal tube or sometimes the shaft must be sent to the factory for the replacement of the spiral In our instalations. These brushes are found in almost all industrial sectors, from metal processing to the wood industry to the textile industry. With the fiber inside, they are used to polish or remove layers of scale or oxide from bars and wires in a continuous process, they can be installed in machines or loosely installed at one point. They are also widely used for rope cleaning, such as climbing ropes. With the fiber to the outside, it is used to install Archimedean Screws in the transport of masses and products of varied granulometry, brush for screw conveyors of helical tubes, threads and helical screws and Spiral Screws in general for applications in the paper and cellulose industry, incinerators, meat and slaughterhouses, chemical and agri-food industries such as wine. They are installed at the end of screws or endless propellers to rub against meshes or perforated filter plates and thus help drag debris. Widely used in machines as well as in jacketed drums for filtering in spillway sieves, machinery for sewage treatment plants; WWTP.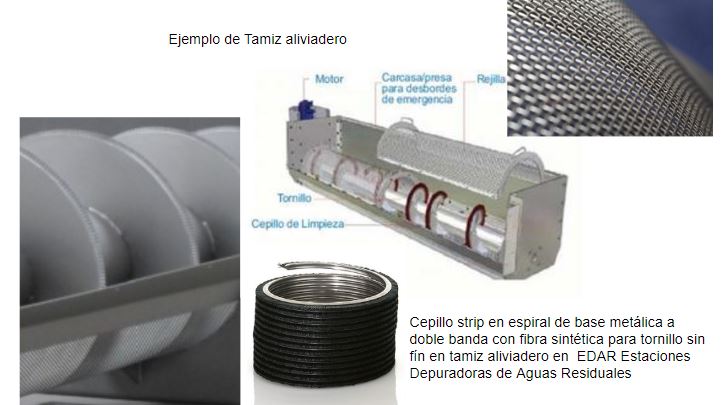 Spiral brush for endless screw in extraction of hoppers, extraction of silos, residues, treatment of residual waters or sewage, recycling, water purification, lifting sewage etc… they are used in many daily applications, related to transport, lifting and storage of bulk products. metal treatment industry – Remove rust, deburr, scarify, lubricate in continuous processes of large steel plates, NE or heavy metal. – Surface finishing, for example: matting of aluminum and heavy metal strips and sheets. – Deburring of cut edges for tubes and profiles of automatic polishers – Deburring of heavy metal curved plates – Extraction of abrasives from plates and profiles in continuous jet installations – Removing plastic coatings from large pipes for conduit. Graphic arts – Cleaning of the sheets and offset plates of the developing machines – Humidification of paper rolls from rotary printing presses – Cleaning the blanket of the roller machine for offset sheet printing Food industry – Cleaning of the drum in the treatment of vegetables – Cleaning the conveyor belts of continuous ovens and confectionery machines – Dusting, sprinkling and icing of pastry products and sweets Applications in the rolling industry, cylindrical brushes of brushing machines in sheet manufacturing: – Hulling support – Elimination of the remains of pickling – Degreasing with bleach, cold detergents, demineralized water or electrolytic degreasing – Elimination of the silver effect on stainless steel sheets, i.e. reduction of the roughness depth – Prevent abrasion and the existence of impurities on the surface of the sheet – Avoid the formation of stains – Activation and enlargement of the sheet surface before refining or coating Contact us for a technician to advise you.