Braided Cup Brushes
Braided cup brushes are for intensive use: for the preparation of metal surfaces before painting, the removal of slag, rust, scale or concrete residue.
Braided Cup Brush
The 80/100/125 mm diameter brushes have a flange placed for greater stability.
The cable tie can be removed after cable wear, exposing another 20mm of usable cable.
We recommend using our 90mm diameter brush for small angle grinders.
Compared to the common brush with a diameter of 65mm, this model has 50% more wire and is really something special in the brush market.
Industrial Braided Cup Brushes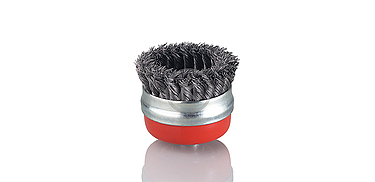 Diameters 65 – 140mm
Stainless steel and steel 0.5, 0.50 and 0.80mm
1 and 2 rows
Couplings M10, M14, Ww5/8″ and inner diameter 22.2mm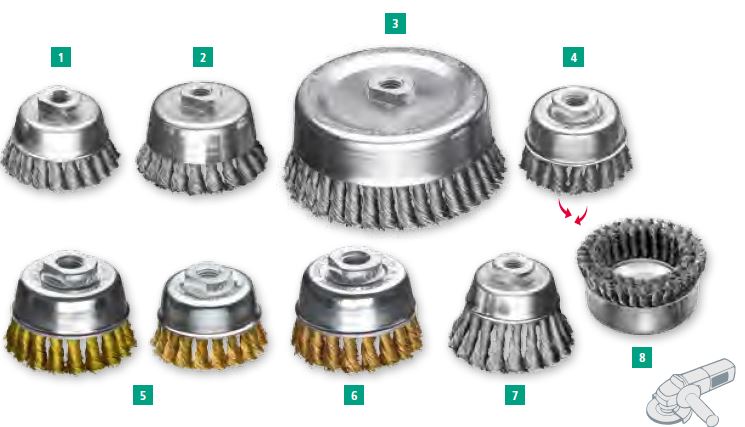 1, 2, 3 and 4: Steel wire twisted cup brushes
5 and 6 : Twisted cup brushes brass wire, bronze wire
7 : Steel wire braided cup brushes, with extra long padding
8 : Twisted cup brushes 2 rows, steel wire
Knot Cup Brushes with Extra Long Fill For use on large areas and for flexible cleaning and derusting of e.g. Shipyards. For use on angle grinders. Easy to work also in areas of difficult access.
Cup brushes, knotted left to right Cup brushes knotted left to right tend to be more aggressive, so they are often used for heavy brushing operations.
In addition, the knots open less, so they are ideal for treating edges.