Street Cleaning Brushes
Industrial street cleaning brushes for road sweeping machines. Cleaning and maintenance of streets, highways and other cleaning applications.
Cleaning of roads, parking lots and urban centers, removal of weeds without the use of chemical products, removal of snow on tracks, roads, highways, etc.
Industrial Brushes for Street Cleaning
We have Ring-type brushes for brushing or central sweeping that, installed one next to the other, form a cylindrical brush, also in a polypropylene tube with a square axis. Rings available with a steel core or PLP polypropylene core and polypropylene and steel fibers. Also zig zag rings and spacers. All models have anchor pins.
We also supply side plate type brushes for a wide variety of automatic sweepers with fills in cable, PLP polypropylene, mix and flat steel.
Check for the brushes of your sweeping machine; Scarab, Semat, M.O.P., Bobcat, Catepillar, Terraco, Lebrero, Elguin Pelican, Bucher, Ravo, Dulevo, Hakko, Schmidt, Jonhston, Nilfisk, Piquersa, Aebi, MFH 2200 – 2500, Swingo, City Cat, Semat A-600, MFH 5000, Karcher, Pulcra, Azura, Butcher City Cat 1500 – 2000 – 2020, AUSA RMB – 120 – 200, etc…
Also available tube brushes for street cleaning: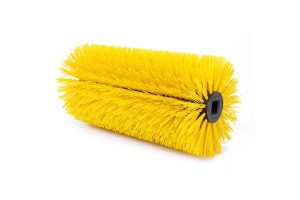 Contact us for a technician to advise you.