Dish Brush
The circular Disc Plate brush for deburring and cleaning is mainly recommended for cleaning processes on flat surfaces. The work surface is perpendicular to the axis of rotation, they are usually motorized.
The bodies of these dish brushes can be plastic or wooden and the fibers or synthetic filaments such as nylon or polyamide, natural, abrasive and metallic such as steel.
The inserted fiber tufts can be straight or inclined and can be inserted or glued to the base with different densities. This type of brush is used in various applications such as: deburring, sliding, cleaning, glass washing, weld removal, polishing, surface finishing, edge deburring, surface deburring, abrasive removal, descaling, removing paint…
Cepillo Plato Disco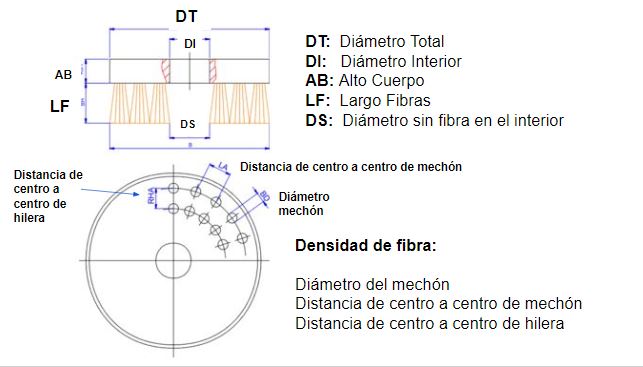 Standard plastic body diameters: 120, 130, 150, 165, 180 and 200mm
Custom body diameters: Minimum 8mm – Maximum 600mm
Standard inner diameters M14 and 25/34.5×10 or custom
Fiber Length: Minimum 8mm – Maximum 200mm
Synthetic, natural, abrasive and metallic fibers
Tufted fibers, by sections or glued.
Possibility of inserting a shaft in the plate brush to attach to tools
To review parts after chip removal with CNC machines or robots. Uses for deburring, edge rounding, surface finishing on precision parts.
High technology, European Quality
Recommendations for the use of the dish brush
They approximate the piece by about 1mm.
The number of revolutions according to the diameter of the brush.
The feed must be slow and progressive, if the burr is removed well it can be increased.
The brush must start and end its path outside the part to be able to machine all the edges.
The direction of rotation of the planer must be opposite to the direction of rotation of the chip removal tool to obtain the best planing result.
Applications
Deburring of aluminum profiles
Deburring of casings
Deburring of valve components
deburring of sprockets
Valve Diaphragm Deburring
Deburring engine blocks
See our dish brushes in action: