Multiaxis Modular Cylindrical Brush
Multiaxis Modular Cylindrical Brush
This new multi-axis modular cylindrical brush model allows the same body to be used for different axis diameters, versatile and resistant.
Suitable for food industry.
To build cylindrical brushes using DMC modular segments and install it in a very short time and without the need to sleeve the shaft with a whole piece.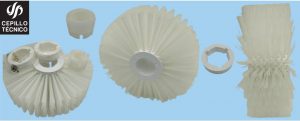 100mm long body: High density white polypropylene PP.
Body diameter 80 x 100 mm long
Body diameter 95 x 100 mm long
The traction between modules is carried out by means of an ingenious system of double body reducers adaptable to most existing diameters.
Same body for shafts of Ø 20, 25, 30, 35, 40, 45 and 50mm
Maximum total diameter 435mm (ask for other measurements)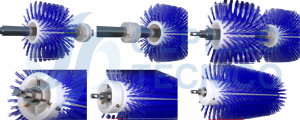 They can be assembled with the following fibers:.
Monofilament of Polyamide (PA), Polypropylene (PP) Tampico (TA)
Abrasive(CSI) Natural Hair (PN)
Layout and density according to model.
Non-natural fiber gauges: from Ø 0.10 to Ø 1 mm
The fiber layout and density can also be chosen according to the application.
Once the number of modules to cover the desired surface has been selected, they are fixed on the shaft with 3 m6 stainless steel studs.
This system allows you to change a single module if necessary, when it has suffered an accident or wear greater than the rest, without the need to change the entire set.
The low tolerance in the adjustment of the materials with which the bases are injected means that there is no risk of suffering fatigue or wear due to friction between them. The correct distribution of the modules ensures success in the work to be carried out.
This modular multi-axis cylindrical brush suitable for the food industry and very versatile for all types of industrial applications, will allow you to build the desired cylindrical brush quickly and practically.
The applications are multiple; brush for machinery such as boot cleaners and sole cleaners, cylindrical brushes for cleaning conveyor belts, industrial cleaning of all types of surfaces, brushes for industrial glass washers, cylindrical brushes for cleaning solar panels, brushes for cheese and sausage cleaning machines , brushes for machinery for cleaning bakery and pastry trays, sweeping, removing dust, washing…
With more than 17 years of experience in industrial technical brushing, our technicians can advise you on the best option for your application.