Joint Brush
Industrial Joint Brushes
Joint brushes with ergonomic two-component handle.
They are ideal for cleaning the ends of gas and water pipes, … before welding them.
All brushes have an ergonomic handle and the wire is made of stainless steel.
The brushes for external cleaning have a carded steel wire belt.
Brush set: the practical faux leather case contains the brushes used for cleaning the interior and exterior.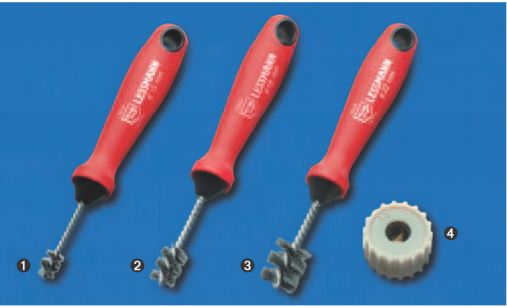 1, 2 and 3.- Brushes for cleaning interior joints
Diameters Ø 8, 10, 12, 15, 18, 22, 28 and 35mm
stainless steel spike
In boxes of 10 units
4.- Brushes for cleaning exterior joints, steel wire
Diameters Ø 39/10, 39/12, 42/15, 48/18, 48/22, 55/28mm
In boxes of 6 units
8-piece set
Leatherette case with 4 internal and 4 external brushes in the following diameters: Ø 12 / 15 / 18
Tips for use: When buying interior brushes for joints, keep in mind that the wire must be made of stainless steel. This is the only way to avoid corrosion pitting caused by oxidized particles.