Standard Modular Cylindrical Brush
Standard Modular Cylindrical Brush
Our standard range of standard modular cylindrical brush rolls are modules that fit together using 4 or 6
protruding tabs being able to join several modules forming the desired length.
Available body diameters 40 – 50 – 65 – 70 and 75mm
For shafts with a diameter of 20 – 25 – 30 and 35mm
Length modules 250 and 300mm we also cut to size.
The smallest Total diameter with fiber that we can manufacture is 60mm (for smaller diameters, contact us).
The largest Total diameter with fiber we can manufacture is 500mm.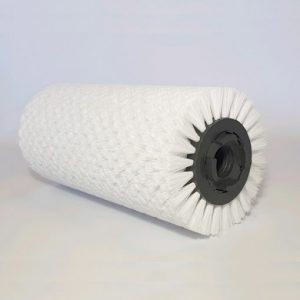 Can be cut to smaller body lengths.
To form the desired total length, several modules can be joined together.
Optionally you can add end caps for a better finish.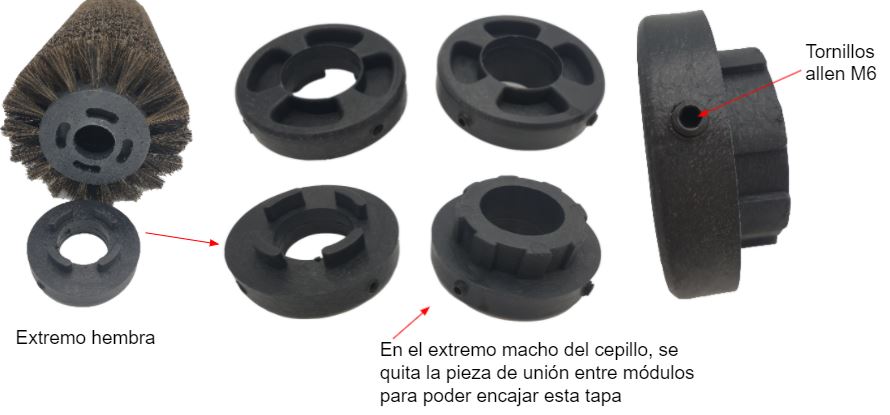 Without the caps, a through hole can be made to fit the brush to the shaft and make it rotate.
It is an economical and versatile module that solves multiple cleaning and washing applications. It is the cylindrical fruit and vegetable brush par excellence.
They can be made from synthetic and natural fibers.
The fiber layout and density can also be chosen according to the application.
With more than 15 years of experience in industrial technical brushing, our technicians can advise you on the best option for your application.