Standard Manual Brushes
Standard Manual Brush
Industrial Standard Manual Brushes
Industrial standard welder-type manual brushes with wooden handles available in different types of fiber; steel, stainless steel, brass, fronce, polyamide and tampico.
Different base widths also available, depending on the number of rows.
They are usually marketed in packs of 12 units by reference, to be confirmed depending on the model.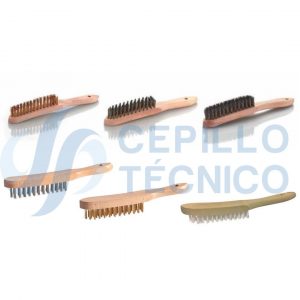 Applications and uses:
Cleaning of scales, in welded parts, foundry, forging and heavy work whose cleaning offers resistance.
Treatment of wood and stone surfaces.
Cleaning of all kinds of adhesions, paints and oxides in general.
For brushing stainless steel surfaces, the use of stainless steel wire is recommended.
For brushing non-sparking materials always use brass wire