External Metallic Spiral Cylindrical Brush
External Metallic Spiral Cylindrical Brush
External Metallic Spiral Cylindrical Brush with metal base for Archimedean Screws in the transport of masses and products of varied granulometry, brush for helical conveyor tube augers, threads and helical screws and Spiral Screws in general for applications in the paper and cellulose industry, incinerators , meat industries and slaughterhouses, chemical and agri-food industries such as wine.
Spiral brush for endless screw in extraction of hoppers, extraction of silos, residues, wastewater treatment, in spillway sieve, recycling, water purification, elevation of sewage, etc… they are used in many daily applications, related to transport , elevation and storage of bulk products.
This brush is manufactured from a total diameter of 17 mm.
fiber to the outside
Minimum Internal Ø 5mm / Ø Maximum 400mm
Minimum External Ø 17mm / Maximum Ø 600mm
Minimum Length 100mm / Maximum 2,000mm
Steel or Stainless Spine
Synthetic or metallic fiber trim
With or without passage between turns and possibility of steering to the right or to the left.
The metal spiral cylindrical brush can be supplied loose or welded in a metal tube.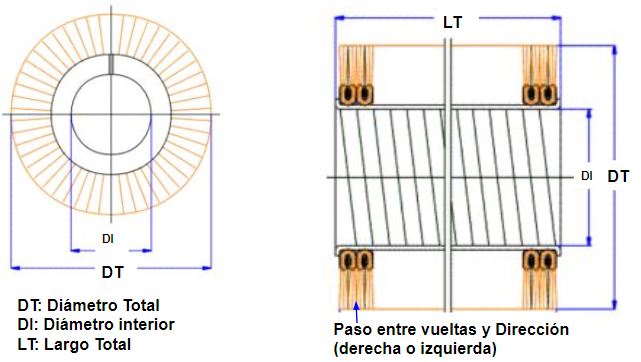 Table of fiber diameters according to brush dimensions:

Double band spiral strip brush
For hard work such as filtering wastewater in sewage treatment plants, the spiral can be manufactured with a double band spine, stapled towards the inside, to prevent the fibers from escaping when exerting a lot of pressure.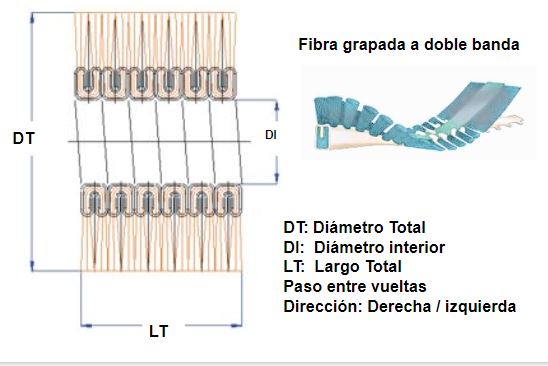 See spiral cylindrical strip brushes at work in different applications. European quality, maximum guarantee: